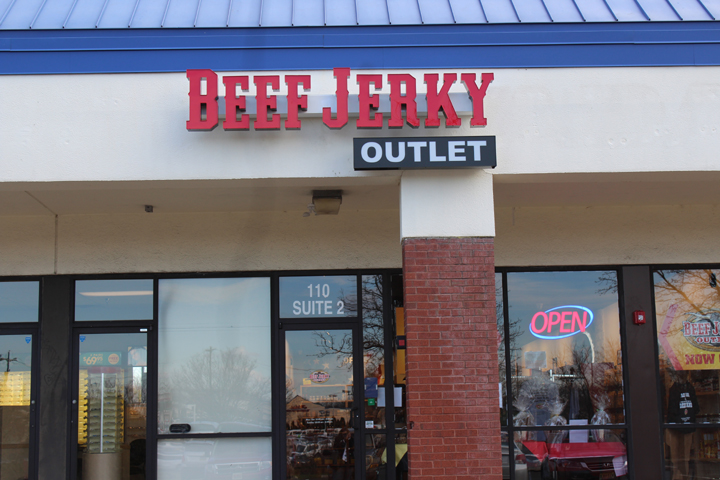 Michael and Sharon Freibrun's first joint business ownership began as a joke.
"Let's go from retiring and sitting on the beach to working 70 hours a week," Michael said of their decision to invest in a Beef Jerky Outlet franchise instead of buying a condominium in Florida.
The Yardley couple first heard of the Beef Jerky Outlet while visiting family in North Carolina and were instantly hooked. They quickly evolved from shoppers of the 100+ varieties of premium jerky and gourmet popcorn, peanuts, candy and cordials to entrepreneurs analyzing data related to traffic patterns and the number of visits to Sesame Place, which is situated less than a mile from the couple's Fairless Hills store.
Given that the next closest store was in Atlantic City and the Beef Jerky Outlet is the only gourmet popcorn and peanut store around, the Freibruns were certain their investment would soon bear fruit. They were right.
"We underestimated what we're selling," Michael said as he replenished nearly bare shelves during a recent visit. "We've been busy since the day we opened."
The 1,550-square-foot space storefront had been formerly a Fast Signs. It sits within view of the Wawa on North Oxford Valley Road. The Beef Jerky Outlet, which opened on Nov. 16, 2017 is in the Oxford Point Shopping Center, where IHOP and Cancun Mexican Restaurant are also located.
The store will hold a grand opening on Saturday, Jan. 27, 2018 from 10 a.m. to 8 p.m. The store will offer the following specials:
Three 4-ounce bags of jerky for $25 (normally $9.99/bag)
Free Beef Jerky Outlet drawstring backpack with $50 purchase (while supplies last)
Free Beef Jerky Outlet T-shirt with $100 purchase (while supplies last)
50/50 raffle with benefits to proceed Emergency Relief Association (local food bank), and special prizes (to be announced)
Drawing to win free jerky for a year ($500 value)
As always, 10% off to active military and first responders (police, fire, EMT)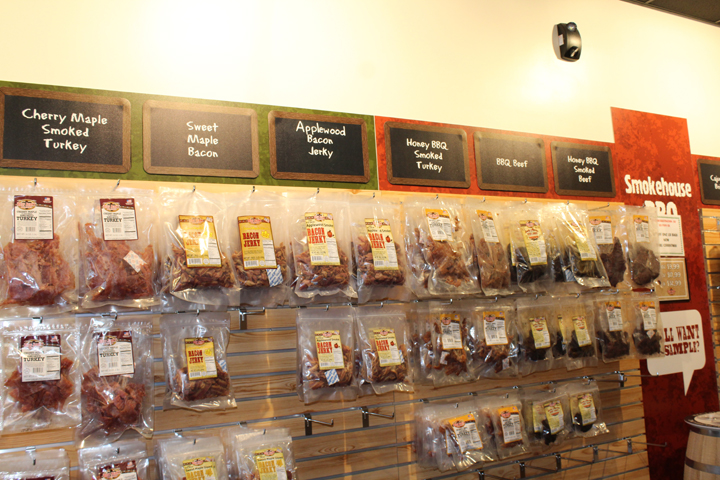 Everyone – including health enthusiasts, outdoorsy individuals and hunters – seems to enjoy the varied tastes available at the store, ranging from prime rib jerky to exotic flavors like kangaroo, alligator, venison, elk and turkey jerky. Not sure what some of the jerkies will taste like? No problem.
You can taste approximately 30 of the 100 plus varieties of jerky that the store has to offer.
In addition to following high-quality USDA standards, Sharon said the Beef Jerky Outlet uses steak quality cuts to make its jerky. Only minimal preservatives are added. The meat treats are "pure protein," Michael added.
"You can read the label and know exactly what you're getting," she said.
Jerky stays fresh for up to a year – not that customers are likely to keep it around that long. Shoppers looking to complement jerky with other tastes can pair jerky with items such as Three Cheese Ranch Popcorn, Butter Rum Peanuts, or any of a number of BBQ sauces, hot sauces, spices and more. The store also sells T-shirts and other souvenirs with tongue-in-cheek sayings.
For the most part, Sharon runs the store with help from the couple's son and four part-time employees. Before opening the store, Sharon, a self-described jack of all trades, worked previously as a dental hygienist, in accounting and in the fitness field. Michael, who has a background in sales and marketing, helps at the store in addition to continuing at his full-time job at Logitech.
"I'm getting used to retail," Sharon said. "We're still trying to balance our home life."
Eventually, the Freibruns hope their son will take over the family business. For now, they are all happy to introduce guests and returning customers alike to their world of beef jerky.
To learn more
The Beef Jerky Outlet is in the Oxford Point Shopping Center at 110 Lincoln Highway, Suite 2 in Fairless Hills. Hours are Monday through Saturday from 10 a.m. to 8 p.m. and Sunday from 10 a.m. to 6 p.m. For more information visit https://langhorne.beefjerkyoutlet.com/index.php/ or call 267-202-6564.