During its nearly 60 years of existence, Audiolab has had several homes – from the spot on Oxford Valley Road, to the location in the Pathmark shopping center, to its current 3,500-square-foot showroom on Lincoln Highway. But, Falls Township has remained the hub of this full-service stereo, TV, custom installation and all things audio center since it first opened in 1958.
Middletown Township native Dave Levitan has owned Audiolab since 1997. His years of audio industry grooming at Sam Goody as a teenager and later at Silo appliance and TV stores prepared him well for owning a business that doubles as his passion.
"This is all I've ever done," Levitan said. "Trying to replicate a live performance in your house – that's what my job is."
Describing himself as "like a kid in a candy store," Levitan enjoys regularly changing up the surround sound equipment and home theater viewing and listening experiences in each of the seven show rooms. Decked out with comfy chairs and couches, as well as headphones and top-of-the-line speakers, amplifiers and other audio components, the rooms bring to life the look and feel of the various audio equipment.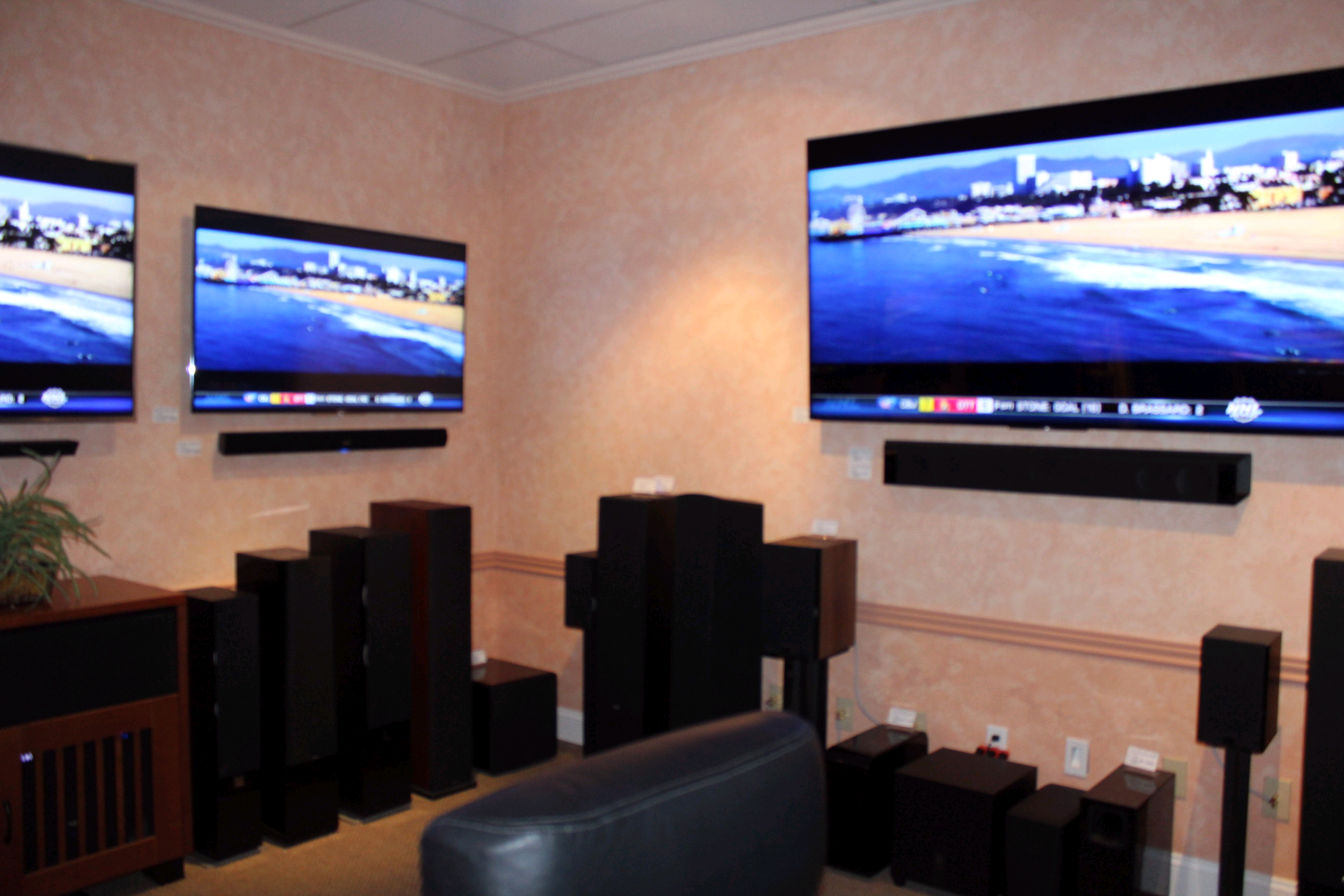 While much of the merchandise in-store is top-of-the-line, Audiolab offers goods for every budget. Headphones, for example, range from $50 to $4,000, while speakers can cost a few hundred dollars up to $23,000 for a pair.
"Our goal is, without a question, best bang for the buck," Levitan said. "We're always competitive. We absolutely can cater to people who aren't necessarily looking to spend a lot of money."
The store stocks audio and video equipment from over 100 brands.
"We're giving our customers choices," Levitan said.
In addition to brand choices and installation service for its equipment, Audiolab technicians integrate lighting control, as well as garage door openers and smart thermostats into customers' systems.
"They want everything to integrate," he said.
At a time when big box audio stores are struggling, Audiolab is growing. The business, which began humbly with only two employees, now employs 15. In the last year, Levitan said Audiolab has experienced the most growth, resulting in an expanded store and additional 10,000 square feet of adjacent warehouse space, as well as six new employees.  
"It comes down to the customer experience," he said. "Customers walk in here. We know the questions to ask. Everybody here is knowledgeable and friendly."
Audiolab offers lifetime technical support and handles manufacturer warranties on behalf of its customers.
"They get us with the purchase," he said. "Absolute 100 percent satisfaction is our goal."
To make sure new equipment will work with a customer's existing systems, Levitan said Audiolab lends out equipment prior to purchase. In some instances, the store's employees visit a customer's home to find a "synergy" between the equipment and the home.
"It's a puzzle," he said. "You have to match things up."
To learn more
Audiolab is located at 492 Lincoln Highway in Fairless Hills. The audio showroom is open Monday, Friday and Saturday from 10 a.m. to 5 p.m.; and Tuesday through Thursday from 10 a.m. to 8 p.m. The store is closed on Sunday. The store offers monthly giveaways, as well as in-store events and seminars. For more information, visit the Audiolab Website at http://www.audiolab.com/ or call 215-295-8795.