Pretty much since she could talk Dr. Christine Polaneczky knew she wanted to be a veterinarian. A vet of 18 years and cat mom to seven, Polaneczky recalls her father always having pets during her childhood. She stayed involved in the animals' care.
"I always had a love of animals," Polaneczky said from her office of six years at The Village Veterinarian.
She and her staff of five see over 4,000 pets per year. In the beginning, Polaneczky provided care for rabbits and ferrets, as well as more common patients - cats and dogs - but allergies caused her to limit the practice to only cats and dogs.
While pets are often given during the holidays or birthdays, Polaneczky, cautions families to do a bit of research before welcoming a new addition.  Polaneczky recommends considering adopting a cat or dog that needs a forever home.  Spending extended time with them or fostering one first is a great way to get to know a potential new pet.  If a purebred pet is wanted, different breeds of cats and dogs have different personalities and needs.  The American Kennel Club is a good resource to learn more about various dog breeds, while the Cat Fanciers' Association is a great tool for finding out more about cats. 
Polaneczky, who worked in other veterinary practices before opening her own, said her practice's longer appointments give pets and owners a chance to "become like family." For annual health visits, she sees pets for 20 minutes and spends 30 to 40 minutes with animals during sick visits.  "After working at multiple places, you get a feel for what works for you," she said.  The benefit of spending more time is that, "I get to actually know my clients and work with them."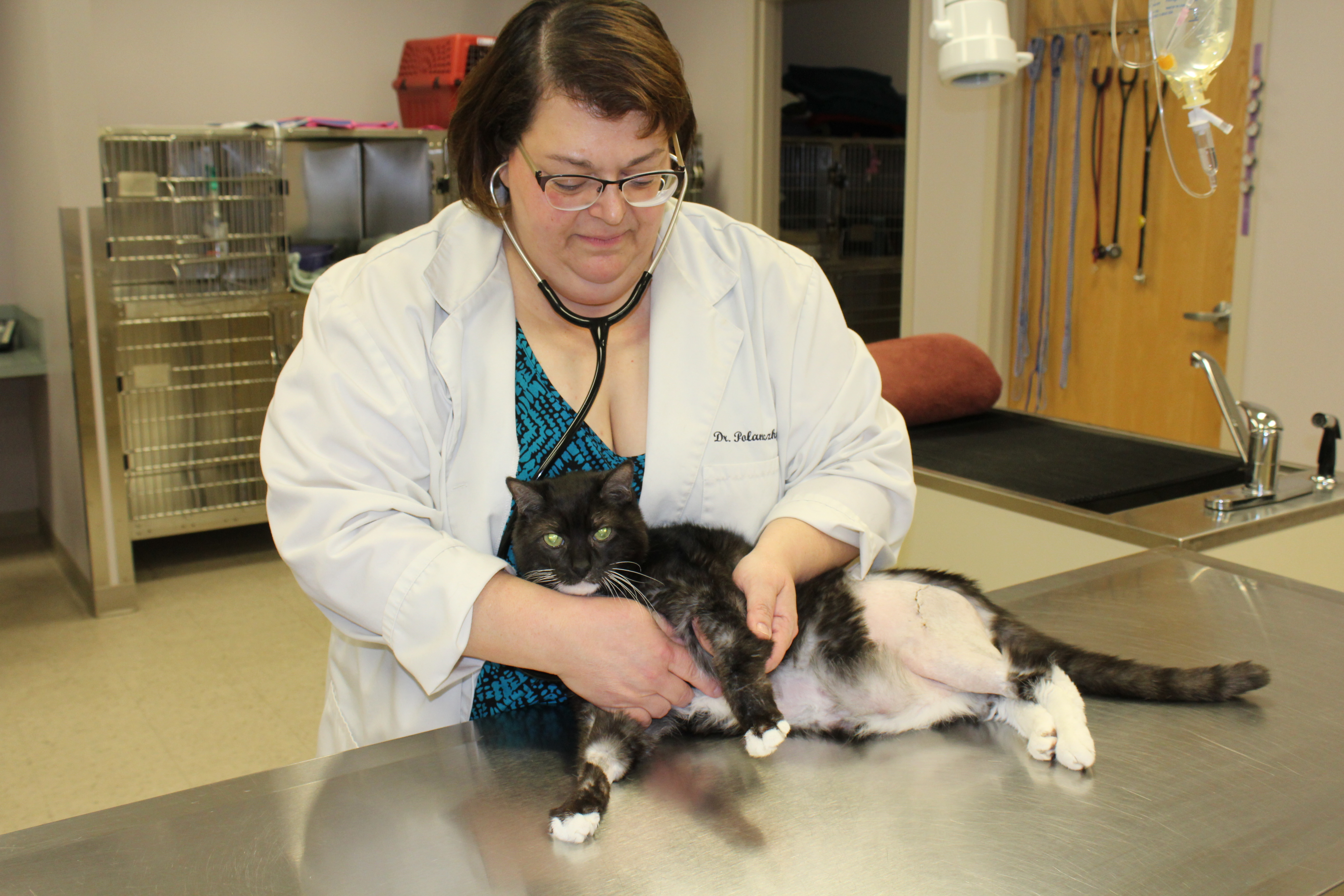 The Village Veterinarian offers annual checkups, as well as dental care, emergency care, behavioral and dietary counseling, microchipping, radiology services and surgical care.  As pets age, Polaneczky recommends bi-annual checkups to closely monitor for issues that can be treated to improve quality of life.
Dental disease is one of the most common ailments in pets. If left untreated, it can lead to bleeding gums.  This allows bacteria from the mouth getting into the bloodstream and potentially leading to infections in other organs.
Allergies to anything from food to pollen to dust mites and more are one of the most common problems seen in pets.  This is one of the most commonly treated conditions at The Village Veterinarian.
Navigating pets' various health needs can seem overwhelming for pet owners, but by taking the extra time to get to know her human and animal clients Polaneczky can offer guidance throughout the pets' life.
"By spending time with the client and their pet, the client and I can determine the best care for their pet in a way that works for the client."
To learn more
The Village Veterinarian is located at 489 S. Oxford Valley Road in the Fairless Hills Shopping Center. Hours are Monday 9 a.m. to 6 p.m., Tuesday 9 a.m. to 7 p.m., Wednesday noon to 6 p.m., Thursday 11 a.m. to 7 p.m., Friday 9 a.m. to 3 p.m. and Saturday 9 a.m. to 1 p.m. For more information, visit http://www.villagevetpa.net, or call 215-945-7900.