Good Vibes Brazilian Jiu Jitsu
When Chris Perry's 15-year-old son was 4, he suggested to his wife that they sign him up for wrestling. "No, that's too rough," she replied.
"What about Jiu Jitsu?" Perry countered.
His wife agreed.
Little did she know that Brazilian Jiu Jitsu - like wrestling - focuses on grappling, especially on the ground. The main principle is that a smaller and/or weaker person can successfully defend against a larger person.
The father of four jumped headfirst into training in the martial art and self-defense system along with his son.
"I went from a white to black belt with four kids and my wife working nights," Perry, now 49, said during a visit to his business, Good Vibes Brazilian Jiu Jitsu, which is located inside an 800-square-foot studio in Pennsbury Racquet & Athletic Club.
He opened the BJJ business in October 2019 and has already enlisted 20 members. But, as he tells it, they're not just people he works out with or trains in martial arts.
"You're not joining a team. You're joining a family," Perry said. "No one's that close to you but maybe a loved one. If Jiu Jitsu was a woman, I'd marry her."
Perry, who said he doesn't think of Jiu Jitsu as a job, leads 72 classes per month. He offers several for kids, with the lion's share for adults.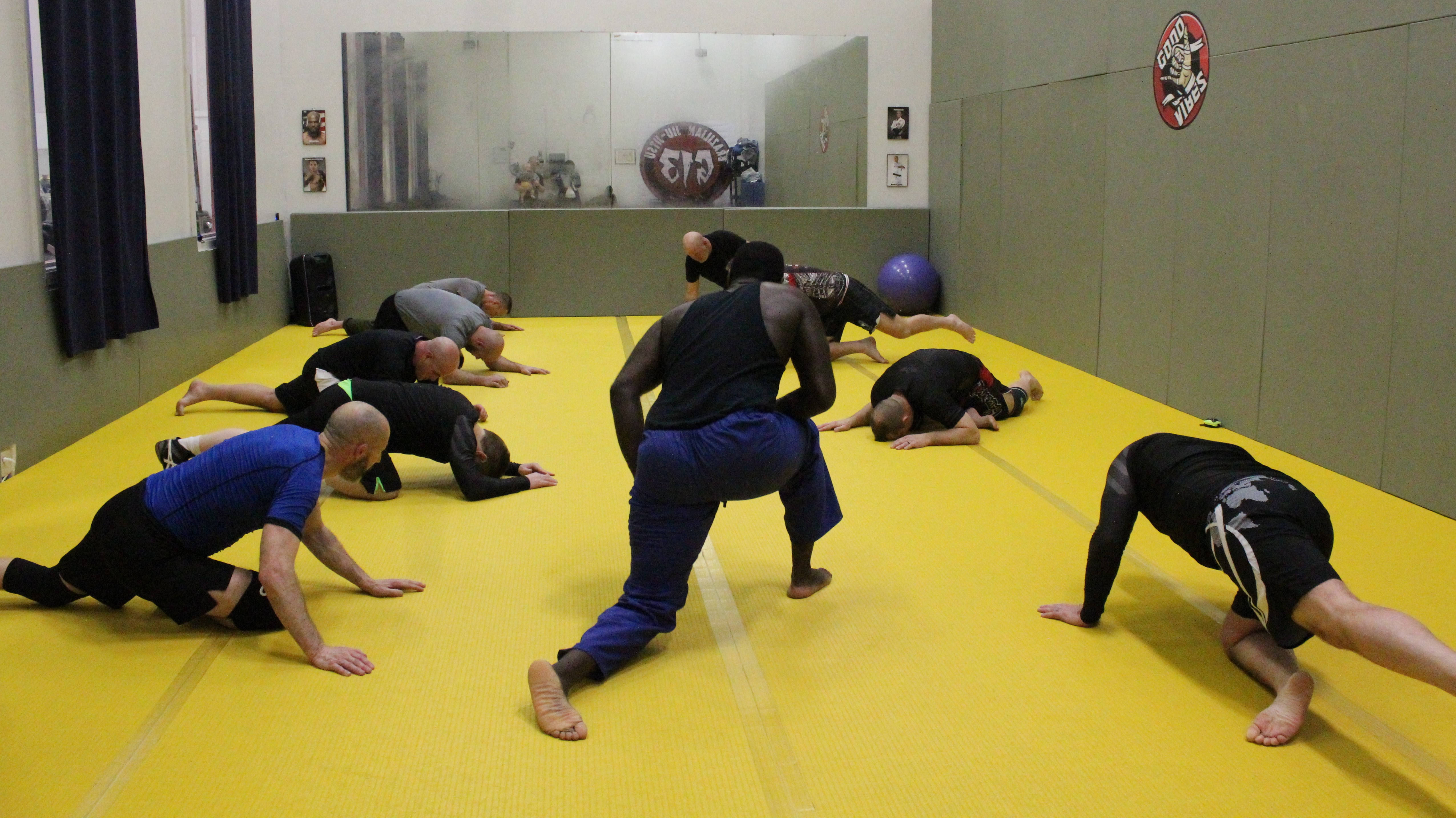 "It's safe for all ages," he said.
Perry's teachings follow that of the G13 Brazilian Jiu Jitsu, which was founded by fifth-degree black belt Roberto Godoi, a five-time world champion.
A 17-year account executive by day, Perry's early morning and evening classes are comprised of warmups, conditioning, technique and 15 to 20 minutes of live wrestling per session.
"Most schools will do one technique at a time," he said. "We stay with a theme. We'll be on it for weeks. They get up to speed fast."
Sal D'Amico, of Levittown, said he enjoys Perry's approach to training.
"He builds off each move," D'Amico said. "It becomes muscle memory."
D'Amico, his wife and their two children got into mixed martial arts 10 years ago when both kids got into trouble at school. D'Amico said he was looking to teach them better discipline.
For Perry, of Langhorne, Jiu Jitsu is the perfect discipline-teaching tool.
"(Kids) learn to lose," Perry said. "You learn how to fail and not be afraid of it."
Now that D'Amico's kids are grown, he got back into Brazilian Jiu Jitsu – and keeps steady with a four-day-a-week regime – to stay flexible and get a good workout.
"A lot of this is being a good partner," D'Amico said. "You're put in uncomfortable situations."
The general rule of thumb is to tap three times to indicate to your wrestling partner that you've had enough, Perry said.
Even though the moves look challenging and perhaps painful, Perry said his group is always watching each other's backs. During a Tuesday evening class 10 men of varying skill levels and sizes squared off throughout the class. Perry, before one matchup rattled off injuries and trouble spots for each of his members without batting an eye.
Fred Backhaus, a former rugby coach who endured 17 shoulder dislocations, said he's comfortable training under Perry.
"It's a lot of repetition," Backhaus said. "It's the way he trains. Do it, learn it."
For Perry, seeing his students learn is the best part.
"When they get something, you see the light bulb go off," he said. "I truly love it. It's life-changing."
To learn more
Good Vibes Brazilian Jiu Jitsu offers classes inside Pennsbury Racquet & Athletic Club, 375 W. Trenton Ave. A variety of adult and children's classes are available Monday through Saturday. Check schedule on Website (https://www.goodvibesjiujitsu.com/) for specific dates and times. For more information, call 267-461-1936 or email goodvibesbjj@gmail.com.