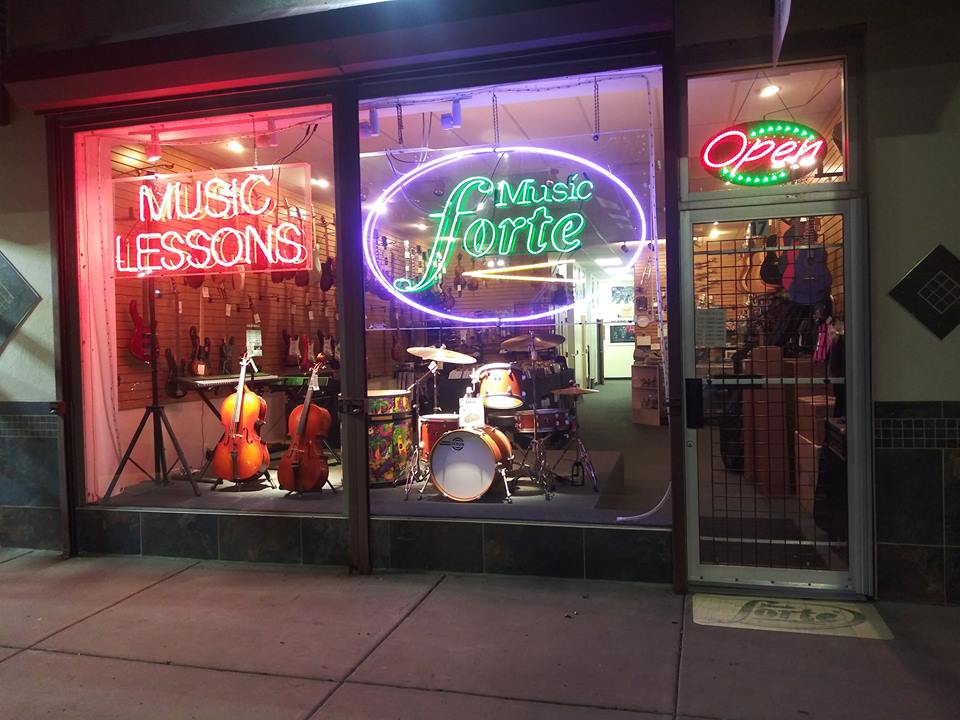 Chris Heitmann set out to play guitar - not own a business.
"I wanted to play and teach," Heitmann, owner of Music Forte, said. "I didn't really want to be saddled to this business."
Still, when his partner looked to sell the business – then called Music Services Unlimited – a 20-something Heitmann was all in.
"I liked what I was doing, but this kind of fell in my lap," he recalled.
Fast forward 30 years and Heitmann's decision to move from guitar teacher to store owner worked out well. When the opportunity presented itself in 1989, 24-hours-a-day live music performances were common at the casinos in Atlantic City. Local clubs - even on Monday nights - would be packed until 2 a.m. with people coming out to hear bands.
The shift in the live music scene made Heitmann's entrepreneurial decision a smart move. These days he mainly oversees Music Forte, a New Falls Road instrument shop, which features instrument repairs, rentals, sales and lessons. Despite the name change and relocation in 2000, the shop is a continuation of Music Services Unlimited, which opened in 1985.
Since the 1990s, Heitmann has seen the retail portion of his business decline while services, such as rentals and lessons, increased dramatically. Music Forte features an in-house woodwinds and brass repair shop. "Hardly anyone's doing it," he said, adding that customers travel from more than an hour away for repairs.
Pennsbury School District also uses the shop for its instrument repairs and rentals. Music Forte teachers offer after school programs at nearby Bucks County Montessori Charter School.
The shop's instructors teach music lessons to 250 students per month, Heitmann said.
"Some of the kids that went here in the 90s, we're teaching their kids," he said. "The store opened up as a music school basically."
In addition to Heitmann, who teaches occasionally, more than a dozen teachers offer instrument and voice lessons. Guitar teacher Ryan Kelch was a Music Forte student. Now a music teacher at Philadelphia Charter School, Kelch is helping to teach the next generation of musicians. Drum instructor Cheech Iero is the father of My Chemical Romance guitarist Frank Iero. The elder Iero has taught Julian Lennon, son of Beatle John Lennon, as well as his own son. Cheech Iero's drumming is featured on My Chemical Romance's multi-platinum selling album, The Black Parade.
It's the decades of expertise that keeps music students and customers coming back, he said.
"If we advise them the right way, they'll be back for years," Heitmann said. "Everyone that's here knows what they're talking about."
Heitmann only hires "good quality instructors who have a good attitude and disposition." All either have a music-related degree or are in the process of obtaining a degree.
In addition to instruments for rent or purchase and sheet music, the shop features six sound-proof spaces for lessons, as well as a 17x17 space for a band or ensemble lesson. Music Forte offers a variety of lesson formats and annual recitals and shows for band classes.
In terms of choosing an instrument, Heitmann suggests going on YouTube to see and hear how the instruments sound.
"Start looking at people playing. You'll see what you like," he said. "It's all about ears anyway."
To learn more
Music Forte is located at 8919 New Falls Road, Suite 17, in Levittown. The store is open from noon to 9 p.m. Monday through Thursday; from noon to 6 p.m. on Friday; and from 10:30 a.m. to 4 p.m. on Saturday. For more information or to schedule a music lesson call Music Forte at 215-946-9295 or visit https://www.musicforteonline.com/.