After working for more than 25 years to perfect the pizza pie at various pizzerias, Rob Persichilli set out to take his love of pizza-making to the next level.
In July, Persichilli became owner of Uncle Charlie's Pizza, a Falls Township takeout and delivery eatery that had already been established.
"I've been doing this for over two decades for other people," Persichilli, 42, said. "I might as well do it myself.
Among the first changes, Persichilli pared down the previous menu from about 300 items to a more manageable amount, while keeping with the wide variety of gourmet and specialty pizza, pasta entrees, hot and cold sandwiches, wraps, cheesesteaks, burgers, chicken wings, salads and more. Pizzas are the primary staple and come in sizes ranging from 12 to 28 inches.
Some of the popular menu items include rigatoni alfredo, meatball parmesan, featuring homemade meatballs, as well as the Uncle Charlie's Pizza, which includes mozzarella and Romano cheeses, banana peppers, salami, and olive oil. Answering the age-old question about whether pineapple belongs on pizza, Persichilli said his sauceless Hawaiian Pizza, which is topped with mozzarella, bacon, ham, and pineapple makes more sense than ones that have a tomato sauce base.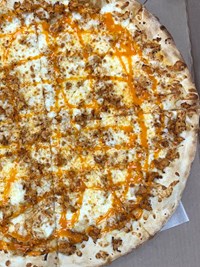 Many of the sandwiches are Create-Your-Own or CYO as Persichilli dubs them, meaning customers can choose which toppings they prefer on their burgers, wraps and paninis. Burgers come with a choice of cheese, up to nine toppings and up to five condiments for the same price.
Uncle Charlie's Pizza offers lunch specials, family meal deals, as well as weekday specials, including Taco Tuesday when the Taco Pizza, Steak Quesadilla and Taquito take center stage. Discounted pricing is available for pasta dishes on Wednesday.
Persichilli first tried his hand making pizzas at age 15 at a pizzeria in Chambersburg, N.J. It was love at first bite.
Other than a three-month stint working at the post office, pizza shops have remained his mainstay.
"I always was in the pizza shop," he said. "Sometimes you just are who you are."
Around when he turned 40, Persichilli was working with someone who ending up selling his place of employment. After realizing "there's no guarantee" working for someone else, Persichilli began thinking about starting his own business.
"That was like the changing point in my life," he said. "I always wanted to go in business."
Finding a shop several minutes from his home was a bonus.
Soon after taking over Uncle Charlie's Pizza, Persichilli painted and installed new LED lights.
"I just took a chance and here I am," he said. "I'm always going to enjoy making pizza."
Making pizza is "second nature," he said, adding, "any pie guy will tell you that."
With a dedicated team working alongside him, Persichilli said he knows he can succeed.
"You are as good as your team," he said, adding that he is lucky to have hardworking employees who go the extra mile. "Without them, you can't do what you do."
In terms of goals, Persichilli said he strives to make a good living and relish the freedom that comes with business ownership.
"That's priceless to me," he said. "It's a beautiful thing."
To learn more
Uncle Charlie's Pizza is located at 203 Lincoln Highway. Hours of operation are Tuesday through Thursday from 10:30 a.m. to 9 p.m., Friday and Saturday from 10:30 a.m. to 9:30 p.m., and Sunday from 11 a.m. to 8:30 p.m. Takeout, delivery and all occasions catering are all available by calling 215-949-9440, ordering online through http://unclecharliespizza.com/ or downloading the app for Android and iPhone devices. Delivery is also available through DoorDash, Grubhub and Slice.