Max Fairo, like actor Ralph Macchio's "Karate Kid" character, found the martial art to defend himself. Only in Fairo's case, the guys beating him up were his seven brothers.
In response to his siblings' attacks, Fairo started taking karate lessons at age 12 in his neighbor's garage. By the time he was 17, Fairo had advanced to a brown belt and moved to California, where he subsequently became a black belt and opened his first dojo. He ran the karate studio for four years before military duty and a death in the family led him to close up shop.
Now a fifth-degree black belt, Fairo, 52, of Yardley, is giving it another go as a karate dojo owner. In May 2021 he began transforming a 5,200-square-foot space at the Gaslight Village shopping center into a dual karate studio and wellness center. By mid-June he opened Panther Kenpo. The finishing touches, powerful words such as "confidence," "courage," wisdom," "loyalty," "discipline," "strength" and honor" painted on the walls, helped bring the space to life.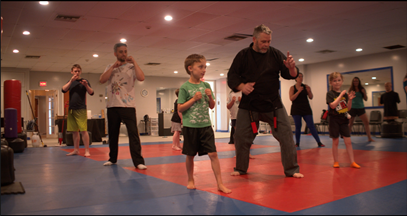 "I get emotional when I see this place being alive," Fairo said.
Work on the calming presence of adjacent Dragon Wellness Center continues and Fairo expects it to open in September 2021. The space will host yoga, massage, reiki, qigong, and other health-related offerings. Once open, the wellness center can be used for networking events and other activities as well.
While some call him crazy, Fairo is in the process of selling his marketing and advertising businesses to take his passion for karate full-time. In response to the adage, "do what you love, and you'll never work a day in your life," Fairo quips, "You still work, but you love it, so it doesn't matter."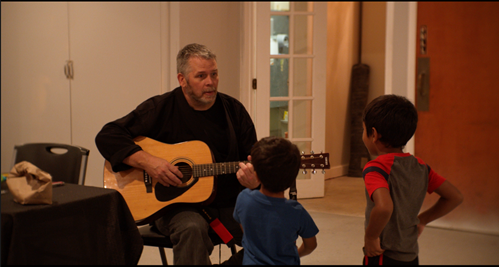 At the outset, Fairo was hoping to locate a 100-square-foot space where he could teach his friends karate. But, when he found the space that had previously housed an Italian restaurant, he couldn't say no.
"I love teaching. You get to learn a lot about what's working," he said, adding that he teaches seven karate classes a day. "This business isn't about money to me. It's about the passion and the love for it."
Fairo follows the Kenpo style of karate and learned the techniques taught in both the Ed Parker and Al Tracy system of Kenpo. The karate style features more than 700 self-defense techniques, in addition to 72 kicks.
Panther Kenpo has about three dozen students so far and Fairo expects many more as kids return to school. While he teaches students as young as 4, Fairo stressed the importance of kids being "vested" in the art.
"I'm not just a drop and go shop," he said. "I want kids to learn."
He offers a 12-week orientation so kids curious about karate can see if it's a good fit. This segment practices without a belt or uniform.
As part of developing a vested interest in karate, Fairo also offers a family program where parents and kids can practice and learn together.
"Our family class is very popular," Fairo said, adding that he never pairs a parent with their child. "When you step on the mat, you're not the parent anymore."
In the end, Fairo said he hopes his students will share his love for the martial art – not just for self-defense.
"Kenpo has saved me," Fairo said, adding that he has beaten cancer and survived 12 different duty stations in the military. "It's bigger than just fighting."
To learn more
Panther Kenpo Karate is located at 85 Makefield Road in the Gaslight Village shopping center. Hours are Monday through Saturday 3 p.m. to 9 p.m. For more information, or to register for classes, visit https://pantherkenpo.com/ or call 603-892-8847.