Barbara Kuronya got her first taste of work in a ski shop during her college years at Trenton State College. After graduating with a degree in business, her part-time job led to a management position at the store.
"I loved it," said Kuronya, a Morrisville native.
She enjoyed working in the winter sports setting so much that she stayed in the field, eventually opening her own store, Endurance Sports, 20 years ago.
In October 2020, Kuronya relocated to a new 1,000-square-foot home at 225 Lincoln Highway (Route 1). Her lease was up for renewal. Considering COVID, she was looking to downsize her retail space a bit.
"You follow the path," she said. "It led me here. I didn't want to stop doing what I was doing, but I did want to make it a little simpler."
The location was a good fit given that her in-house repair shop for skis, snowboards and bikes has been in the same development for almost 10 years. Plus, the new location is still close to her home in the Yardley area.
"Everything just kind of lined up," she said.
In addition to Kuronya, an avid skier, Endurance Sports employs a team of passionate outdoor sports enthusiasts who share their vast knowledge of skiing, snowboarding, biking and disc golf with both new and long-time customers.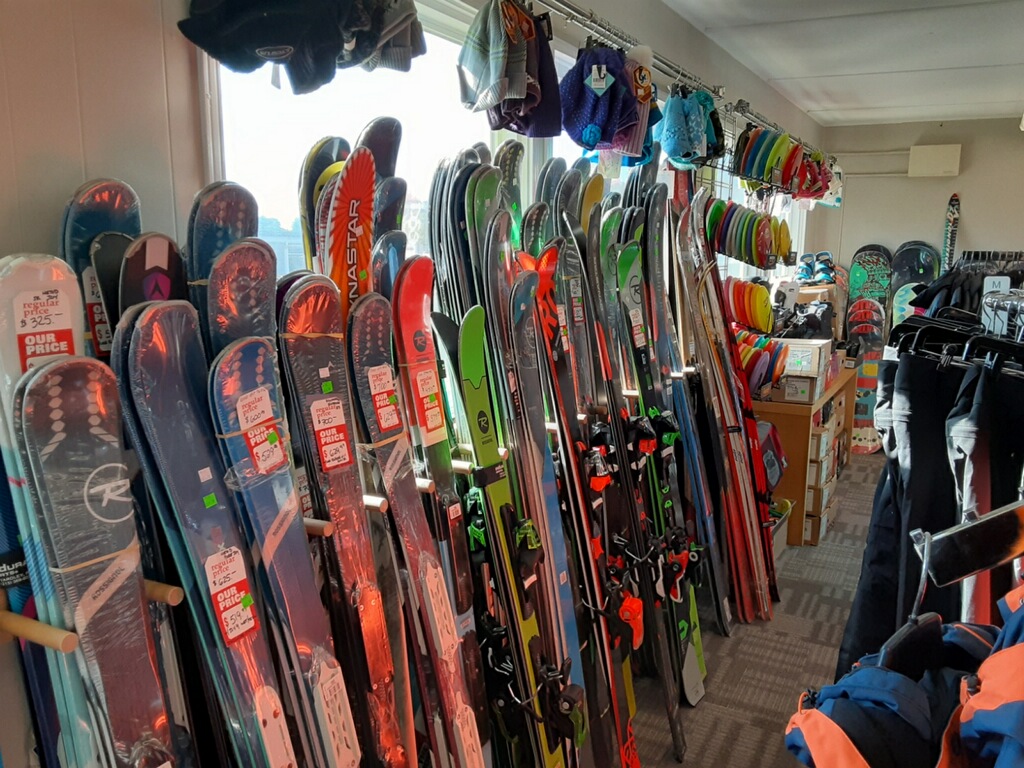 The store also offers a great program for seasonal leases, which Kuronya estimates could save customers two-thirds of the cost of buying items outright. Endurance Sports prides itself on helping customers find the items best-suited for their needs – even if it means passing up a sale.
"Somebody wanted to buy a snowboard. I talked him out of it," she said. "Get out and see how the boards turn. Get the right equipment. I don't think you should buy equipment before you've been on a mountain."
For first-time skiers or families, she recommends Bear Creek Mountain Resort in the Lehigh Valley. Jack Frost, Shawnee and Blue Mountain are also close and offer a larger area. Elk Mountain, outside of the Poconos, makes for a nice weekend trip. Beyond Pennsylvania, Kuronya said Vermont offers a "totally different level of skiing."
Typically, customers rent ski or snowboard equipment for a season, generally October through the end of April. Daily and weekly rentals are also available. The advantage of renting before buying is that customers can try different options and see which they like best before making a larger investment.
Endurance Sports takes a similar approach to other items, particularly boots.
"Every movement that you make starts from the boots," Kuronya said, adding that choosing the right type of boot for a customer's skiing style and weight is important. "We take our time. All of our fitting is a guaranteed fit."
It is the time and attention to detail that sets Endurance Sports apart from the big box sporting goods stores.
"When you're looking for advice, I don't think you can beat the expertise you find in a small shop," Kuronya said. "Everyone here is very committed and passionate about what we do."
Endurance Sports is also passionate about giving back to the community, by working with local schools and scout troops to educate kids about the importance of sport safety. Kuronya and her team have also collaborated with Bucks County Community College and Middletown Township to run sports camps that help campers learn the skills needed to maintain an active, healthy lifestyle.
"We're part of the community. You want your entire community to thrive," Kuronya said. "It doesn't take a lot to give what these organizations are looking for. Sometimes it's a matter of an hour going to a troop meeting to talk about safety. It's just good will. You want people to be out there and enjoying the sports."
If visits to the store are any indication, customers are doing just that. Many customers have continued supporting Endurance Sports throughout the years and visited the new store since its relocation to Falls. Besides folks from Bucks County, Endurance Sports also sees regulars from Philadelphia and New Jersey.
"Everyone seems to love the new location," she said. "A lot of them have been with me for a very long time."
The new location, due to its smaller size, offers a separate sales season for skiing and biking. Skiing merchandise is available mid-September to April and biking is available April through September. For customers in need of items during an off-season, Kuronya said she will do her best to help.
"We love what we're doing," she said. "We're so glad that we're still here and that our customers have followed us and have been spreading the word."
To learn more
Endurance Sports is located at 225 Lincoln Highway (Route 1). Hours are Monday through Friday from noon to 7 p.m., Saturday 11 a.m. to 4 p.m. and Sunday from 11 a.m. to 3 p.m. For more information, call 215-369-0225 or visit https://www.endurancesportsonline.com/.