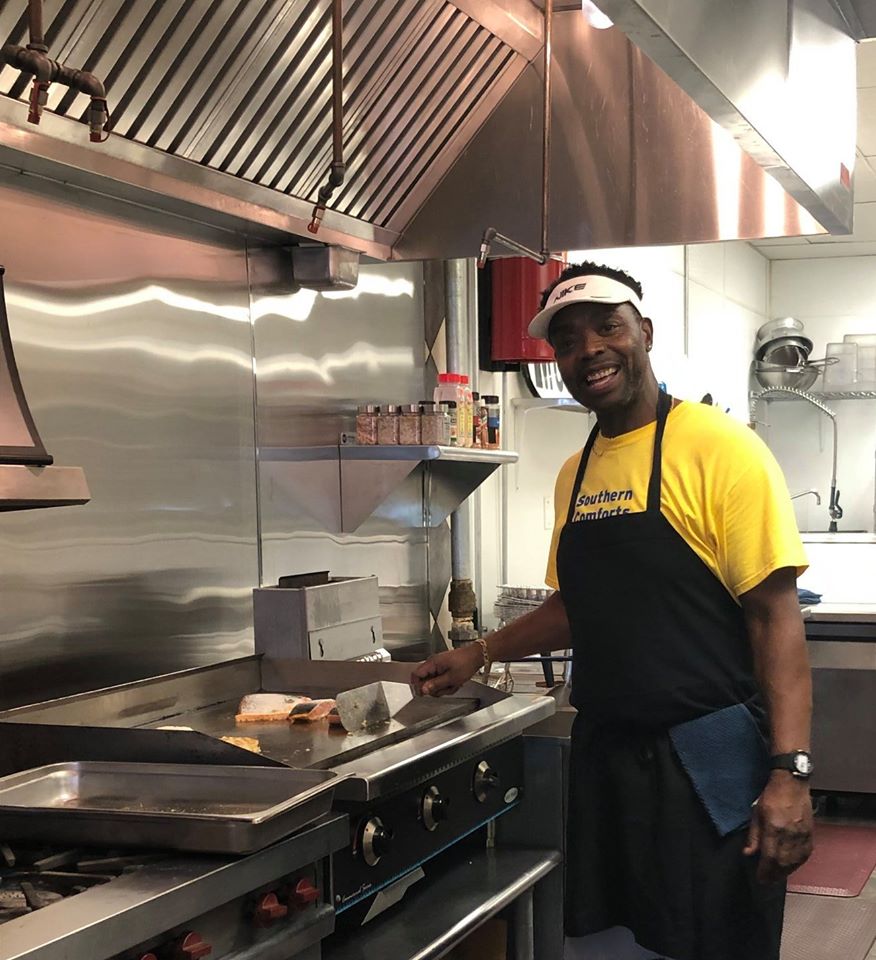 Longtime Chef Rich Adens walked into what would become his home cooking eatery, Southern Comforts, and saw past the "disgusting" storefront, which was chock full of holes in the walls and a damaged ceiling.
"I had a vision and I put it into place," the ever-smiling Adens said from the warm and welcoming interior of his uber-cozy restaurant. "I wanted to have that comfortable feeling."
Within nine months Adens gutted the space and rebuilt the entire inside of his Plaza Boulevard storefront, adding the warmth of a fireplace and redoing some of the walls with charming faux wood paneling and others painted with bright sunny yellow hues. Southern Comforts' signature sunflower décor is accented throughout the roughly 30-seat restaurant.
The makeover was a first for Adens, of Yardley, a U.S. Army veteran who has spent 37 years in the kitchen working as a chef for a variety of restaurants. Southern Comforts specializes in comfort food with a touch of southern hospitality, thus the name.
"They want a good home-cooked meal," Adens said of his customers. "They want hospitality."
Adens serves up both in heaping helpings.
Southern Comforts offers breakfast all day, including staples like chicken and waffles, pancakes, made-to-order omelettes, grits and more. Lunch and dinner favorites include country fried steak, corned beef hash and Reuben sandwiches. The menu features a variety of options, including roasted pork loin, baby back ribs, ham steaks, brisket, flounder fillets, meatloaf, chicken parmesan, and pulled pork that customers can have grilled, baked, sautéed, smothered, steamed, broiled or bar-be-cued. Each of the meals comes with a choice of two sides, including homemade mashed potatoes, collard greens, corn on the cob, candy yams, cabbage and many other vegetable options. The chef also incorporates changing specials periodically, including crabs during the summer months to coincide with the restaurant's July 2019 opening.
"I love it," Adens said. "Cooking is a passion."
Meeting and getting to know his customers is another fun aspect of running the business.
"You get to learn people," he said of interacting with customers.
When he's too busy in the kitchen for meet and greets, his fiancé, Penny, who works most evenings as a hostess, takes up the task. The couple also has a half dozen part-time servers who deliver the fresh-made meals.
Adens got his first real taste of cooking as a 15-year-old kid working at an Italian restaurant in Cape May, N.J. The chef asked Adens to prepare chicken marsala, a task that he had never done before. Although nervous, Adens made the Italian staple. The dish received high praise from the chef and his friends - a memory that Adens, now a father of adult children, still holds close.
"Italian food is my forte," he said. "A real chef should be able to cook everything on that menu."
Adens studied cooking and nutrition at Atlantic Cape Community College. His coursework prepared him for future cooking-related ventures, including opening chain restaurant locations for Red Lobster, Outback Steakhouse and Lone Star Steakhouse and Saloon.
"I always wanted to have my own because I opened a lot for other people," he said. "Let me do my bucket list."
To learn more
Southern Comforts is located at 229 Plaza Boulevard. It offers eat-in and takeout food, as well as catering. The restaurant is open Mondays, Tuesdays, Thursdays and Fridays from 4 p.m. to 8 p.m. and Saturdays and Sundays from 11 a.m. to 8 p.m. For more information call 267-797-5407 or visit https://www.southerncomforts4food.com/