Michael Gallagher grew up with an interest in the martial arts as a kid. When his children, Shelby, 20, and Liam, 17, got interested in Tae Kwon Do at ages 5 and 4, respectively, Gallagher's love of the disciplined sport was reborn.
"As a parent, I can't sit out there and watch," he said. "I need to be out there doing it."
His wife, Lisa, a Pennsbury school teacher and fellow black belt, joined them as well on what he describes as a "great family adventure."
Mr. Gallagher, Shelby and Liam all compete and collectively have won 16 national medals and four national titles as a family.
"It's been a lot of fun," he said. "We've got to see the country."
The Gallagher's family Tae Kwon Do adventure inspired the opening four years ago, of Generations Tae Kwon Do, a year-round training facility the family operates with partners and fellow Tae Kwon Do aficionados Matt Germain and Joell Gramacy.
Generations moved to its current 3,000-square-foot location on Lincoln Highway in February 2015. The center is equipped with two training rooms – one with hard wood floors and one with a mat.
Generations Tae Kwon Do is governed by the Kukkiwon (World Tae Kwon Do Headquarters), World Tae Kwon Do Federation, World Chang Moo Kwan and USA Tae Kwon Do. Generations is an official registered school with USA Tae Kwon Do and instructors are certified black belts.
Currently, 75 students are enrolled at Generations. Gallagher said he and his partners are willing to accept another 25 students or so.
"We don't look to grow too big," he said. "It's really managed growth."
Gallagher said he seeks quality over quantity and looks for "very nice, family people."
"The family that kicks together, sticks together," he said. "I've got 6 year olds and 65 year olds. We like you to train side-by-side with your kid or grandkid."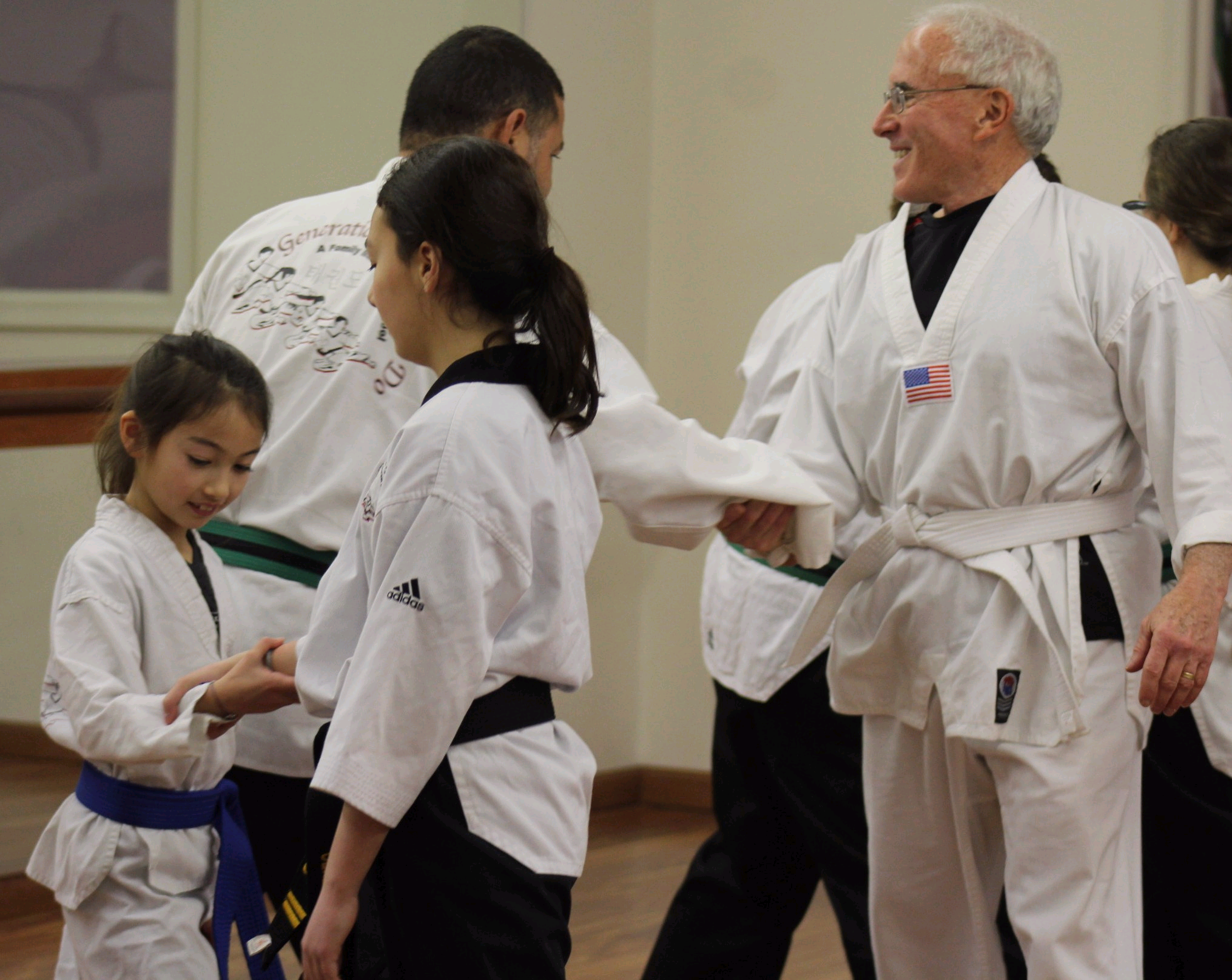 The family component of training is what sets Generations Tae Kwon Do apart from other martial arts centers.
"I have no competition with anyone," he said of his boutique family training facility.
Generations Tae Kwon Do is open seven days a week with evening and weekend classes to accommodate trainers' full-time jobs.
Gallagher works as a civilian for the New Jersey State Police. His partners work in audit management and graphic design.
"It's all about the martial arts for us," he said. "It really is a labor of love."
The Generations Tae Kwon Do team works with its students on stretching, basic movements, form, breaking, sparring self-defense and conditioning. Students must put in 24 training hours within three months and test to the next level to advance.
"It's a journey. It's not a race," he said. "Not everybody has to be Bruce Lee."
At any given time, 20 to 25 percent of Generations' students compete. In 2016, Generations athletes won a total of 85 awards.
"If they have an interest, we'll develop them," Gallagher said, adding, "competing isn't for everyone."
Ultimately, sharing a family Tae Kwon Do adventure among students is the primary goal.
"I love it," Gallagher said. "It's my passion."
To learn more
Generations Tae Kwon Do is located at 490 Lincoln Highway Suite B in Fairless Hills. The center has rolling enrollment for all ages and abilities and offers daily classes year-round. Generations offers monthly membership fees and allows students to take as many classes as they wish per week. Generations does not require an annual contract or belt testing fees (up to the rank of deputy black belt). To see schedule or to learn more about the program visit the Website: http://www.generationstkd.com/index.html or call 215-630-8577.