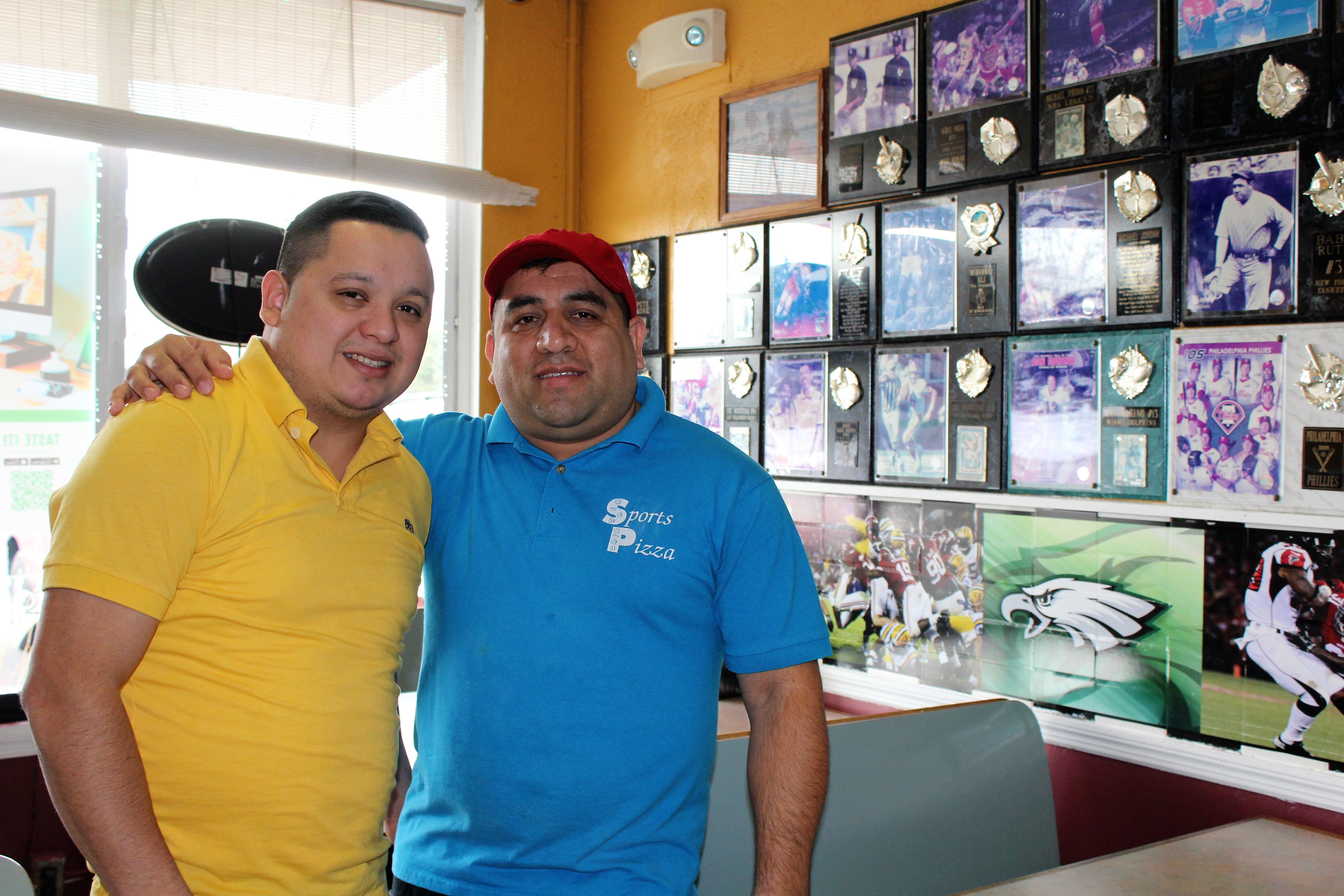 Hugo Montoya and his brother-in-law, Juan Jimenez, are living the American dream.
Since August 2013 they have owned Sports Pizza, but the business has been part of their lives for much longer.
In 2000 when Jimenez moved to Levittown from Guatemala as a 16-year-old kid, Sports Pizza was his first place of employment. The following year, Montoya made the move from Guatemala and began working alongside Jimenez.
The previous owner taught the men the ropes.
"When I came here, the owner was here all the time," Montoya recalled. "He was seven days a week."
Within two weeks of beginning work at Sports Pizza Montoya proved that he was not only a quick study, but also that he could be trusted to run the restaurant. The owner looked to him to run the day-to-day operations of the 24-seat eatery.
Years later, when it came time to purchase the restaurant and become its co-owner, he said it wasn't much different than running it on his boss's behalf. 
"The food, we tried to keep consistent," Montoya said of the restaurant's specialty pizzas, Stromboli and calzones, cheesesteaks, wraps, hoagies and Italian-style dinners. "We use the best quality cheese. Everything we use is top of the line."
Regular customers, like Anthony Santone, agree.
"We eat here almost every day," the contractor said while polishing off a piece of pizza during a lunch break. "The cheesesteak pizza is the best. Every slice is good. I'm Italian. I know good pizza."
Other menu favorites include chicken wings and more than two dozen varieties of specialty pizzas available by the slice or pie, including buffalo chicken; chicken ranchero; taco; and lasagna, which features pepperoni, sausage, meatballs and ricotta cheese.
Customers go crazy for Sports Pizza's Caesar salad topped with marinated grilled chicken, a concoction so tasty salad dressing is more of an afterthought than a necessity.
In addition to serving up delicious food, the owners take pride in their efforts to give back to the community. Local sports teams that the eatery sponsors line the walls of the dining area. Montoya said he has worked with area schools to provide high-quality food at great prices.
"We like to help people," he said. "We keep prices as low as we can."
Since taking the helm of Sports Pizza, the owners have upgraded the kitchen, started working with companies on catering and began offering online ordering. Expanding to a second pizza shop or a Mexican restaurant is a future goal.
"We came here for a dream that came true," Montoya said. "We know how far we can get. Once you step in this business you learn everything. You have the chances."
To learn more
Sports Pizza is located at 85 Makefield Road in the Gas Light Shopping Center. The pizza shop is open Monday through Thursday from 11 a.m. to 10 p.m., Friday and Saturday from 11 a.m. to 11 p.m. and Sunday from noon to 10 p.m. Food is available for eat-in, carry out, delivery and catering. To learn more or to place an order, call 215-736-3053, 215-736-3054 or visit www.sportspizza.net.