Extreme Fitness Beast Factory Gym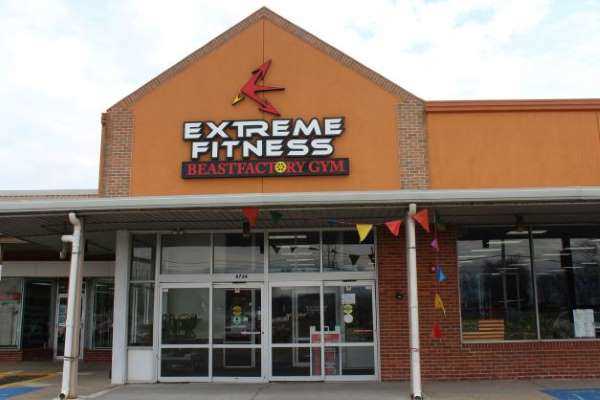 Martin McLoughlin's first gym was a converted 18x30 space on the second floor of his Levittown home. Three other gradually larger workout spaces followed, and with them, his band of workout enthusiasts continued to amass.
After more than 10 years at his 6,000-square-foot space in Fallsington, McLoughlin, along with his wife and fellow personal trainer, Linda Stout, finally found their home in a 12,000-square-foot space in a shopping center on New Falls Road. Several months of construction, painting and reoutfitting Levittown's first grocery store followed until the 12,000-square-foot Extreme Fitness Beast Factory Gym opened in March 2022.
The goal, according to McLoughlin, was to create "the look of a gym that no one had ever seen." The black walls, soft LED lights and colorful equipment throughout makes the space pop. Black turf divides the group training area from the personal training side – an integral component that was missing from his last facility.
McLoughlin, 52 and Stout, 65, invested their life savings into what they say will be their final workout space.
"Let's go all in," he said.
The new space is a dream come true for McLoughlin, who, since leaving L.A. Fitness as head personal trainer in 1999, has always set out to create an "anti-gym."
He worked with Promaxima, a built-to-order fitness equipment manufacturer to design a layout for the roughly two dozen individual workout spaces, each with its own bench, weights, stability ball and more.
Post-COVID, McLoughlin recognized the importance of each of his group class participants having his or her own defined workout equipment in their own space.
"They can do every single thing from their own rack," he said. "We don't want people to feel like they don't have access to the equipment."
So far, only one group class resulted in someone needing to share equipment. If and when that happens, McLoughlin said additional classes will be added.
Members access the building through a cloud-based digital access entrance system. Guests receive one-time access via text message.
The goal, he said, "is to make everyone feel like they're in a private gym."
McLoughlin also installed state-of-the-art speakers and wireless mics, which can easily be controlled through his cell phone, simplifying nuances like music versus microphone volume for live streaming classes.
Many of the folks who bumped their heads on the ceiling of McLoughlin's home as they worked out 20 plus years ago are still with him. Along the way, while the spaces have gotten bigger, his goal has always been to "keep it small."
McLoughlin doesn't want to be a gym that sells thousands of memberships. He wants to know his members.
"I've worked so hard to make that stick," he said of limiting memberships. "We want to find that point of comfort."
For the most part, members participate in either group fitness classes or work with one of six personal trainers. Soon, Extreme Fitness will offer an add-on of an open gym membership, which would allow the member use of the equipment anytime the gym is open, except when group sessions are held. All members have access to a private Facebook page with online workouts, as well as a healthy cooking page.
Pivoting to a virtual format amid COVID quite possibly saved his business – and gave him a new way to reach people beyond the local area. Beginning in March 2020, McLoughlin took his gym on the road, dropping off equipment in the driveways of member homes and offering access to Zoom workouts at a minimal cost.
The concept quickly caught on. Soon, his regular online participants included people from as far away as North Dakota and Texas. These so-called "charter members" pay $60 per month and have access to 3,000 on-demand workouts, as well as a healthy cooking page and functional training fundamentals. Today, 167 people are part of his online community, while more than 200 people are in-person members.
The median age of the gym's members is about 45, but McLoughlin said some members are as young as 11 and as old as 80. One of his trainers works with a 14-year-old girl with Cerebral Palsy to help her with walking. McLoughlin provides training sessions for guys from the AHL and NHL. Trainers work with clients who have Parkinson's disease, artificial limbs, cancer rehabilitation, as well as severely obese people.
"They're the people we change the most," McLoughlin said of his diverse membership base. "It's good for you."
Several years ago, McLoughlin worked with Tim O'Neill, of Levittown, to encourage healthy eating and working out habits. Within the first six months, O'Neill, who had weighed more than 500 pounds, had dropped 160 pounds.
And before becoming a couple, Stout, who had worked previously as a paralegal, left the gym where she had been working out because she had "no direction" and started training with her future husband. At 121 pounds, Stout's body was comprised of 38 percent fat. She has since trimmed that down to 18 percent body fat.
"It is not about how much you weigh it's about how much body fat you have. Nothing that the scale tells you matters. What matters is what makes up your weight," she said, adding that McLoughlin helped her replace body fat with muscle mass. "We do not support dieting. We live in a clinical environment where we put our practice to use every day and work from those results, not what the current fitness magazine says to do."
As a couple, McLoughlin and Stout – as well as their carefully selected trainers – follow the same approach with members and personal training clients.
"Find your way because we're going to work with you," McLoughlin said. "No matter what."
To learn more
Extreme Fitness Beast Factory Gym is located at 8724 New Falls Road. Hours are Monday, Wednesday and Friday from 5:30 a.m. to 8:30 p.m.; Tuesday and Thursday from 8 a.m. to 8:30 p.m.; and Saturday and Sunday from 8 a.m. to 1 p.m. Memberships are offered month-to-month, with no commitment. Cost is $99 per month. Drop-in classes are available for $15 and can be reserved by texting 267-570-6378. For more information, visit https://www.extremefitnesspa.com/.