United Way of Bucks County
From a humble administrative office on Hood Boulevard in Fairless Hills, the United Way of Bucks County staff puts into action far-reaching programs to help residents with everything from food, clothing, housing, furniture and other essential items, education and more.
The Bucks County chapter of the nationwide nonprofit organization has been in existence since the 1950s and has called Falls Township its home base since the early to mid-1960s.
Known for its Bucks Knocks Out Hunger food initiative and Stuff the Bus back-to-school drive, the organization prides itself on adapting to rapid-fire change to best serve Bucks residents in need.\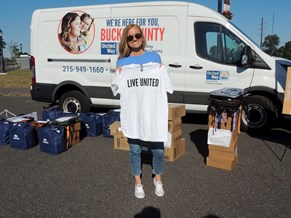 "We respond very quickly when needs in our communities emerge or change," United Way of Bucks County President and CEO Marissa Christie said of what she is most proud of.
Since the pandemic, United Way has implemented several programs aimed at emergency response. In April 2020, amid business shutdowns resulting from COVID, Christie accelerated the opening of the chapter's HELP (Healthy Eating and Living Partnership) Center, an 8,000-square-foot space in Bristol Township where county residents can shop – free of charge – for food, toiletries, furniture, home goods and more. Since its inception, the center has distributed $5.7 million worth of goods countywide to 116,000 people.
Every week and a half a tractor trailer full of brand-new items arrives. One of the first deliveries in spring 2020: Toilet paper. Other large-scale donations have followed, including toothpaste and personal care items.
"It puts Bucks County on the map for large corporate partners who want to do donations," Christie said. "When we do a good job of articulating what the need is, our community responds. People do want to help to the greatest extent possible."
And the payoff of seeing Bucks residents pick up the items they need is priceless.
"It is so cool to go in and have that dignified shopping experience," she said. "It feels good to see people getting what they need."
Christie, along with United Way partners, Bucks County Opportunity Council, St. Mary Medical Center, and Penn Community Bank, had been planning for the HELP Center for many months. The group found and looked at potential sites but had not found quite the right spot. The hope had been to open the center by the end of 2020. When Christie began hearing about COVID, she knew that any type of interruption of work for low- and moderate-income households would be financially devastating. Opening the center became a priority. Barely a month later, the group found a location for the HELP Center and opened its doors.
In addition to opening the HELP Center, United Way also launched a COVID recovery fund for residents struggling financially.
Following flash floods which caused destruction to dozens of homes in lower Bucks County in July 2021, United Way implemented the Bucks United Flood Recovery program to assist homeowners whose flood-ravaged properties were not covered by flood insurance. Low- and moderate-income neighbors were "at risk of losing everything."
"So much of our family's net worth lives in our homes," she said.
In fall 2022, United Way of Bucks County will roll out a new transportation-focused program, LIFT United. The goal of the pilot program is to help low- and moderate-income recipients "learn to invest in your future and thrive." In partnership with Credit Counseling Center, participants will receive one-on-one financial literacy coaching and learn effective budgeting strategies. United Way and its partners will offer car-buying best practices and financial assistance with car down payments and obtaining low-interest vehicle loans.
"Over time I expect this to be something that's going to evolve," she said. "I am excited."
For an organization that does so much for the community, it is sometimes difficult to quantify total impact. When describing the various programs United Way of Bucks County offers to combat hunger, homelessness, and expand educational opportunities, Christie notes that some programs are a "light touch" while other are "more intensive."
Work involved in the Stuff the Bus back-to-school drive (which served over 3,400 students this year alone) is far less involved than the 300 scholarships and placements for pre-K education that United Way offers to Bucks County's earliest learners.
Looking ahead, Christie, a mother of two who joined United Way in 2010, said her goal is to "make sure we're as present as possible" and ready to respond to community needs. While Bucks County is considered a wealthy area, Christie notes that 6 percent of the population is at or below the poverty line while 24 percent earns more than the poverty line but is "barely covering costs."
To continue meeting needs well into the future, Christie said the organization will embark on a visioning process for the HELP Center and hopes the community will participate and give feedback.
"You've got to talk to the people you're serving to make sure you're getting things right," she said.
To learn more
United Way of Bucks County is located at 413 Hood Boulevard, Fairless Hills. United Way welcomes support in the form of financial donations, brand-new goods, and is always in need of volunteers to help in myriad ways, from assembling furniture at the HELP Center, to sorting incoming goods, assisting with Stuff the Bus, Bucks Knocks Out Hunger, or other initiatives. Volunteers can help on an ongoing basis, once a month, or as needed. Volunteers, including Boy Scout and Girl Scout troops, also organize drives to collect items for the HELP Center or other programs. For more information, please visit https://www.uwbucks.org/, email info@uwbucks.org or call 215-949-1660.