After running another successful franchise locally for the last 15 years, a group of friends and business partners decided to expand their operations with the September 2021 opening of the Bubbakoo's Burritos location in Falls Township.
Amish Shah, general manager of the quick service Mexican eatery, said "the community itself" was the inspiration to open another business in Falls. That, coupled with the goal of providing more variety to the local food scene was the impetus to opening.
"The people have been nothing but warm and welcoming. That's the experience we've had since we have opened," Shah said. "We've been received by the community with open arms. We've embraced the community as a whole and they've embraced us."
Known for its made-to-order eats, including the Chiwawa – panko-coated fried rice and cheese balls topped with nacho cheese or queso cheese sauce, choice of beans, meat and other toppings – Bubbakoo's Burritos has been serving up burritos, bowls, quesadillas, tacos, nachos, and taco salads since the first location opened in Point Pleasant, N.J. in 2008. Since then, the company has expanded to dozens of locations in 10 different states, all while keeping a relaxing place to enjoy great food an integral part of the recipe.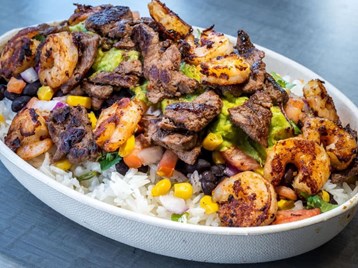 At the Falls location, steak and shrimp burrito bowls are popular, as are the different signature creations, including the chicken bacon sriracha ranch quesadilla. Once guests have selected their entrée of choice, the next step is to pick a protein. Options are plentiful and made fresh every morning at Bubbakoo's. Guests can choose from a variety of choices ranging from crispy, grilled, or shredded chicken, as well as pork, vegetarian spicy black bean patty, steak, shrimp, and ground beef – with most meat and seafood offered in countless flavor combinations.
Although Shah's guests return again and again to try new mashups of their favorite entrees or indulge in sweet and savory desserts like the boardwalk cookies and love chips, he recognizes that Bubbakoo's Burritos is not the only quick service Mexican restaurant around.
The difference between his eatery and chains, he said, is the customer service that he and his staff provide.
"We try to get to know our customers as we're making the orders," Shah said. "We ask 'How is your day? How are you doing?' Believe it or not, most people aren't even expecting those questions."
Another way Bubbakoo's strives to serve its customers is through the rewards program available via the Bubbakoo's mobile app. After downloading and registering, customers can order pickup or delivery and accrue rewards points with every purchase.
"You can pre-order your meals," Shah said. "They're made fresh and are ready for pickup."
Tuesdays are for tacos at Bubbakoo's Burritos. Guests can buy "as many $2 tacos as you want." (Premium choices like shrimp and steak incur an additional fee and the offer does not apply to catering).
A variety of catering packages are also available for pickup or delivery. Most catering orders require 24-48 hours' notice. Larger orders may require more time.
Business has been great so far, according to Shah, who said he is grateful for his patrons and being part of a great franchise, which has been so well-received.
"It's not just about making money at the end of the day," Shah said. "It's about making a difference in people's day."
To learn more
Bubbakoo's Burritos is located at 229 Plaza Blvd., suite 28-A. Hours of operation are Monday through Friday from 11 a.m. to 9 p.m. The Bubbakoo's Burritos app is available through the Google Play and Apple App Store. With the app, customers can place orders and earn rewards. Orders can also be placed online. For more information, please visit https://www.bubbakoos.com/location/morrisvillepa or call 267-225-1885.