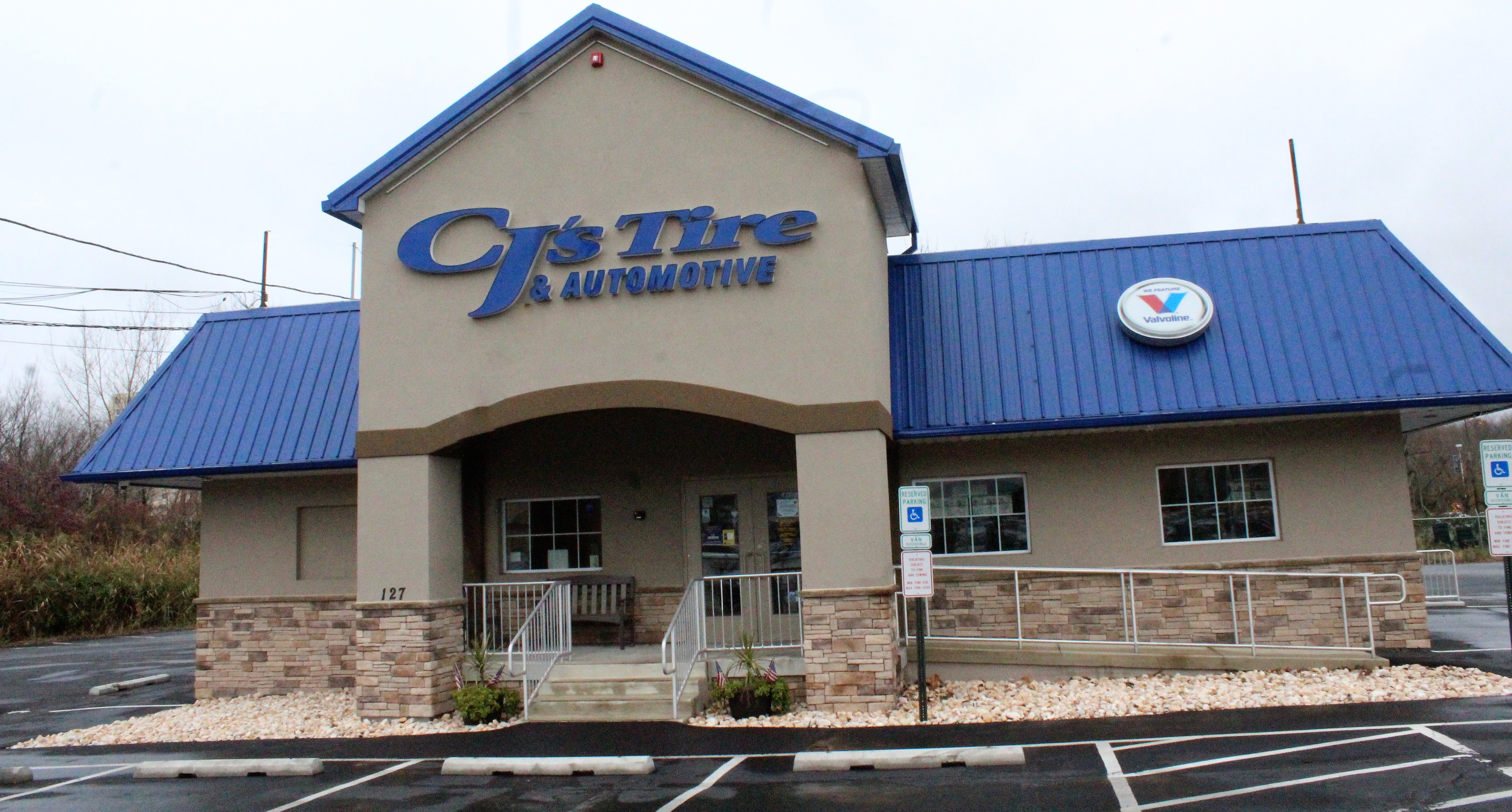 A swank coffee bar style seating area with phone and electronic charging stations, free wi-fi and a wall TV greet customers at CJ's Tire and Automotive. Motorists may be there for a new set of tires, state inspection, oil change or mechanical fixes, such as alignments, but the waiting area evokes a laidback feeling of being in your favorite coffee shop – or better.
"We try to treat everybody like family when they come through the door," Dave Newman, manager of the Fairless Hills location said during a recent visit. "You feel like you're sitting in your living room."
Adds Bill Bainbridge, CJ's Tire and Automotive vice president of marketing, "we don't look like a tire store. That's by design."
The shop opened in the fall of 2017 on Lincoln Highway, right beside a Meineke Car Care Center. Bainbridge said the company, which operates 17 locations throughout southeastern Pennsylvania, sets itself apart from other repair centers.
"Tires are the core of our business," Bainbridge said. "Our customer experience is going to be a lot different."
CJ's carries thousands of tires in all price ranges, he said.
"We don't ever let price come between us and the customer," Bainbridge said, adding that CJ's will price match a competitor's coupon or written quote.
In addition to Newman, who brings 27 years of management experience to his role, the shop is manned by two certified repair technicians, as well as two technicians currently undergoing training and a part-time technician.
Technicians service, on average, 10 to 20 cars per day for various maintenance, including brake service, oil changes, state inspections, and tire replacement. CJ's requests appointments for mechanical services when possible. Customers may walk in on a first come first served basis for routine maintenance.
The shops large repair bays can accommodate even more customers.
"We're always looking for more customers," Newman said.
With its top-notch customer service and a customer loyalty program, the shop is likely to continue growing. Customers who opt-in for rewards receive helpful articles related to seasonal car care via email. Rewards dollars are also given throughout the year. Beginning in 2019, Bainbridge said the loyalty program will evolve to a points system that pays customers in gift cards for retailers such as Amazon.
"We want you to be comfortable and we want you to come back," Bainbridge said.
CJ's began in 1971 when Paul Levengood Sr. opened the first location in Birdsboro. The business name was originally C&J, the initials of Levengood and his then-partner's wives, Carol and Judy. Over time, the company shifted its name to CJ's. Levengood remains involved, along with his son, Paul Jr. The two Levengoods, along with Bainbridge and two vice presidents oversee the CJ's Tire and Automotive enterprise and its 17 locations.
"It's a classic success story," Bainbridge said, adding that moving into Bucks County and Falls Township in particular, "was a natural way for us to expand."
To learn more
CJ's Tire and Automotive is located at 127 Lincoln Highway in Fairless Hills. The shop is open Mondays through Fridays from 7:30 a.m. to 6 p.m. and Saturdays from 7:30 a.m. to 2 p.m. The shop is closed on Sundays. Customers may walk in for service or make appointments by phone or online at https://cjtire.com/. For more information call 267-580-5660.